NORTHLAND: KAURI COAST
Pouto Point Carpark

end of Pouto Point Road, Pouto, Kauri Coast, Northland
rvexplorer id: 17735
Lat-Long: -36.36331, 174.18116
Beach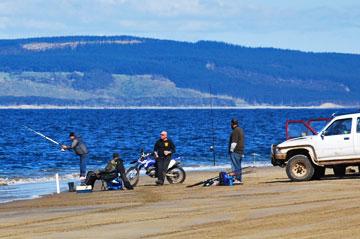 Rod fishing along the beach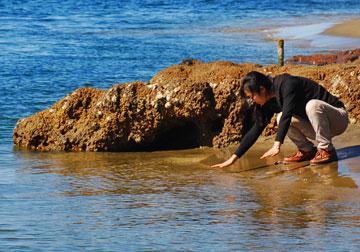 Checking the crystal clear water at the beach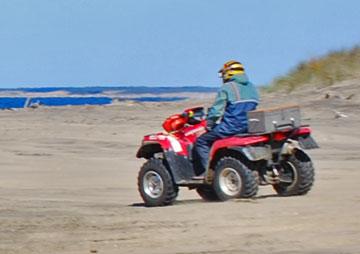 One of the quad bikes available for hire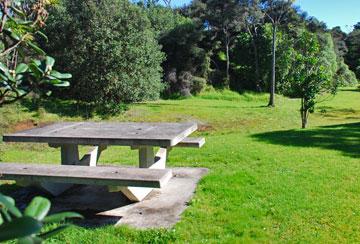 Picnic table in the adjacent reserve
The beach at Pouto Point is located at the northern entrance to the Kaipara harbour. Home to the largest scnapper breeding ground in New Zealand, it is as very popular location for fishing, as well as for camping and exploring the long coastline.
Quad bikes are available for hire, and can be used to go down to the lighthouse and to explore the coastline. Many shipwrecks have occurred in this harbour, the remains of whiich are sometimes uncovereed by the shifting sand dunes.
At the point itself, the shoreline descends steeply, and the rocky underwater cliff face is encrusted with mussels - which is the big attraction for feeding scnapper. While not always evident, the beach quickly fills up with enthusiastic anglers whenever the fish are biting.
The parking area is not large, but there are public toilets, and reserve next door has picnic tables set amonst the trees.
Overnight parking is most likely not allowed, although there is no sign to that effect. In any event, the Marine Hall Campground nearby is has a lot more room and offers powered sites and hot showers for only $12 per night for two persons in a motorhome or caravan.
Click here to check out the campsite.
Pouto Point has an interesting history, and was originally a very popular holiday location for Aucklanders, when there was a ferry service to the local jetty. The ferry no longer runs, and the jetty now has only the stumps of its support posts remaining.
Consequently, getting to Pouto Point now involves a 2 1/2 hour drive from Auckland to Dargaville, followed by the long drive down the peninsula, the last 22 km being a windy gravel road. But it is absolutely worth it.
If you're planning to stay overnight at the campsite, make sure you book in ahead of time. It would be a pity to drive down the peninsula only to find that it was fully booked.
Enjoy!
POST A COMMENT: