NORTHLAND: KAURI COAST
Kaiwaka Sports Complex

14 Gibbons Rd, Kaiwaka, Northland
rvexplorer id: 17717
Lat-Long: -36.15871, 174.44483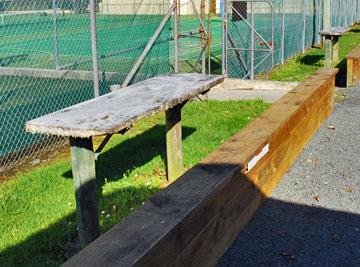 Outdoor seating and tables beside the tennis court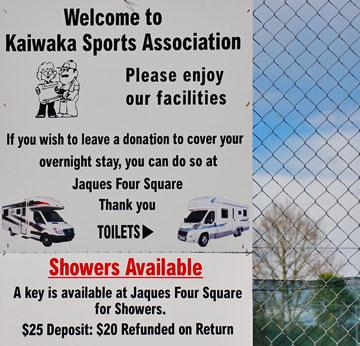 Welcome sign on the tennis court fence
We called in to the Kaiwaka sports complex at the end of winter to check out their overnight parking facility.
We were pleasantly surprised to find a spacious area alongside the tennis courts, with a long seating bench, and outdoor tables, perfectly placed for outside eating.
There is some shelter from a hedge of trees on the other side of the parking area, and, on a sunny afternoon, everything looked bright and cheerful.
No-one was using the complex on a Thursday afternoon, but I imagine that it might get quite busy in the weekends. A phone call to Jaques Four Square ahead of time would sort out what nights are busy. Ph: 09 431 2227
A welcoming sign posted on the tennis court fence advised that we could make use of the showers in the complex for a small $5 fee paid to the Four Square grocery store across the main road.
Of course, a $25 deposit is required to encourage return of the keys, and a voluntary donation is also requested. Given the quality of the setting, a small donation is a very reasonable request.
So, if you want a really nice, low cost location to park overnight, not far from a grocery store, and with good showers, the Kaiwaka Sports Association are hard to beat!
POST A COMMENT: