NORTHLAND: FAR NORTH
Ahipara Holiday Park

164-170 Takahe Street, Ahipara, Far North, Northland
Phone: 0800 888-988
rvexplorer id: 17367
Beach, Town











Ahipara is one of those quiet destinations that features a few surprises. It is located at the southern end of the ninety mile beach, and boasts a beachfront golf course that attracts visitors from around the world.
The holiday park is a short walk from the beach, and is nicely laid out with mature trees to park under. We arrived in the late afternoon after stocking up on some groceries in Kaitaia and had no trouble finding a suitable powered site. We got ourselves all set up and then went for a walk to the ninety mile beach.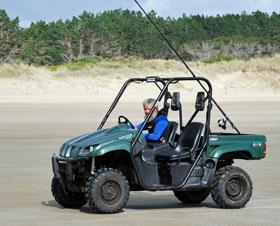 We headed off to where we thought we could access the beach, but it turned out to be the Ahipara golf course. We could see the water on the far side and were debating whether we should just walk across when one of the members came out, on his way back home. He advised that the main beach access was in the other direction, and we chatted for a while about Ahipara and the golf course.
I was astonished to hear that he was from Sweden and travelled to Ahipara for 2 months each year in order to play golf!
To me, having grown up along the west coast, Ahipara is just another sleepy little town by the beach. To meet someone who was happy to travel half-way around the world just to play golf by the beach helped me to appreciate a little more what we have in New Zealand.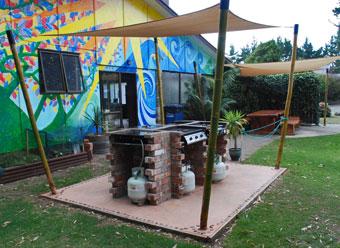 The campsite was great. Being outside of the main summer holiday season, it was very quiet and the facilities were clean and thoughtfully laid out. The showers unmetered and included in the tariff.
There was a table tennis table and a book library in the lounge, and the barbeque area included a herb garden for guests to make use of.
Overall, we enjoyed our stay. Pity I don't play golf...
POST A COMMENT: