NORTHLAND: FAR NORTH
Lion Park Toilets and PDS

Waterfront Dr, Mangonui, Doubtless Bay
rvexplorer id: 18866
Lat-Long: -34.99561, 173.53463
Beach, Town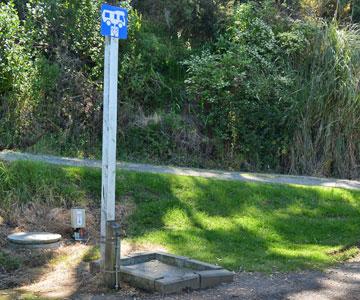 Closeup showing the damaged catchment and offset tap
The Mangonui PDS is located in Waterfront Drive, at the southern end of Manganui town.
Unfortunately, while the public toilets were well maintained, the dump station needs repair. The tap is offset so that it cannot be used to clean up the dump station catchment unless a hose is fitted. And the catchment area is badly cracked, which would make it difficult to clean anyway.
28-Dec-2015: However, the local council have just made this reserve available to self-contained motor caravanners for freedom camping.
POST A COMMENT: