NORTHLAND: FAR NORTH
Henderson Bay - Low Cost Parking

503 Henderson Bay Road, Houhora, Far North, Northland
Phone: 09 409-8055
rvexplorer id: 17747
Beach, Rural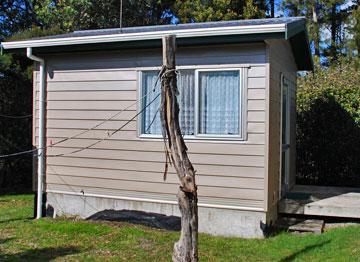 Cottage with toilet and shower facilities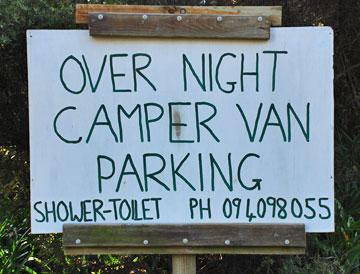 The Maunsell property near Henderson Bay provides comfortable low cost overnight parking, with hot showers and toilet available in a sheltered and peaceful location.
We were driving down to have a look at Henderson Bay when we noticed a sign offering overnight parking for motorhomes. We squeezed through their driveway, and were very pleasantly surprised to find a small cottage with shower and toilet and an on grass parking area on each side of the cottage.
Doug Maunsell heard us parking on site, and came down to introduce himself, and showed us around the cottage which he was in the process of rennovating. The bathroom and toilet were finsihed, and he was planning to finish off a separate bedroom as well.
The cost for two people in a motorhome is $25 per night. There is no power at this stage, but it is private and sheltered, and the hot shower is a real plus.
It's about an 8 to 10 minute walk to the beach.
The overnight parking is not available when Doug is away. If you would like to stay, then you should phone ahead of time to be sure. Also, with only two parking areas available, it might well be full.
Doug removes the sign when he is away.
POST A COMMENT: