NORTHLAND: BAY OF ISLANDS
Aroha Island

Kuripari Rd, Rangitane, Kerikeri, Bay of Islands, Northland
Phone: 09 407 5243
rvexplorer id: 00027
Forest










Shuping and I had met a couple of travellers who highly recommended Aroha Island while we were exploring the Kauri Coast and Hokianga. So we thought we'd finish off our Northland foray by spending a night on the island.
We arrived in the late afternoon, expecting it to be pretty quiet on a weekday in early autumn. However, a large school group had booked most of the campground, and for a while it looked like we might not be able to stay. The campsite manager checked with the teachers organising the school project, and they were happy for us to park in one of the powered sites just off to the side of where they were holding their activities.
The were also non-powered sites available on one the waters edge, which would have made a great, quiet location. However, we needed the power, so we took a picture of the other van parked there.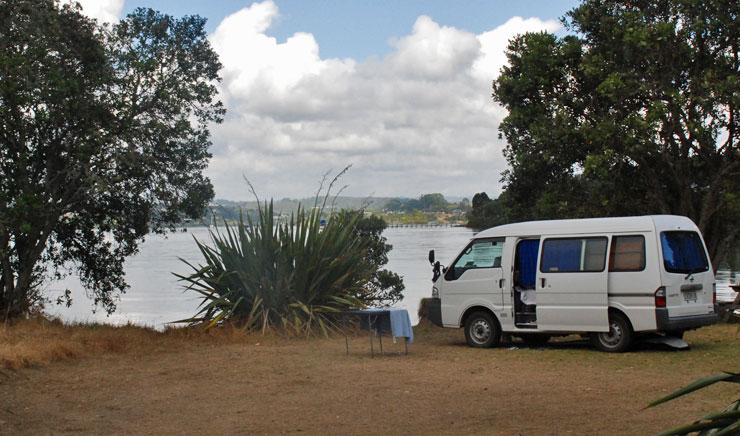 We settled in and had a walk around the island before making dinner. The island is only 5 hectares, but it is covered in re-generating native bush with walking tracks both around and through it. We enjoyed the walk and it was good exercise before dinner.
One of the features of the island is that it is fenced off and predator free, allowing kiwi to become re-established. The trust normally provide guided walks through the forest at night, where you might see kiwi in their natural habitat. That wasn't available because of the school function, but we went for a walk after dark anyway, using a red filter on our torch so that we could see any kiwi without disturbing them. Unfortunately, the kiwis were also taking the night off, and we didn't even hear one.
The next morning the tide was in and we did another walk around the island, taking pictures on the way. The kayaks were proving to be popular with the children, and a Belgium couple in the motorhome next us, also took their two children out on the water. They had been travelling around New Zealand in a motorhome for the past two months, and only had one more week before returning home.
Even without seeing a kiwi, we had an enjoyable time. It is good to see these conservation projects becoming established around the country. Aroha Island is an great location to bring young children, where they can learn about our native wildlife, go kayaking around the island, or just run around an play in a beautifully maintained environment.
You can visit their website at www.arohaisland.co.nz.
POST A COMMENT: