NORTHLAND: BAY OF ISLANDS
Waitangi Holiday Park

21 Tahuna Road, Waitangi, Bay of Islands, Northland
www.waitangiholidaypark.co.nz/accommodation
Phone: 09 402-7866
rvexplorer id: 17366
Lat-Long: -35.27541, 174.07823
River, Town














We arrived in Paihia late in the evening after a long drive up from home-base in Auckland. The office had already closed, but fortunately, there were places available and it was no problem to park and then sign in the next morning.
We found a suitable powered site and got ourselves settled in for the evening. Warmed up noodles was all we felt up to before we crashed for the evening.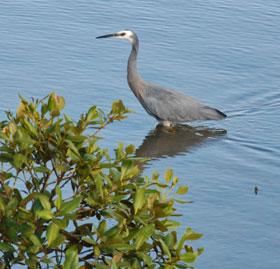 The campsite was quiet and well laid out with friendly staff at reception. A very nice stopover location to recharge batteries (literally) and check internet for emails. They provide a wi-fi network, but mobile reception as also very good.
One minor hiccup for newbie motorhomers, most of the powered sites were beautifully sheltered under large trees - which would be minor inconvenience for those who might want to watch tv using a satellite connection. Of course, the trees also provide welcome shade on hot summers days.
The next morning got away to a relaxed start, and had a look around the park before checking out. We decided to drive through Paihia to make a video of the main street along the beach front and discovered that there was a craft market on. We parked in the spacious car park behind the markets - it's metered, but only $1 dollar for the day. But don't forget as the traffic wardens were patrolling...
Some of the artwork was beautifully done and a great place to buy a special gift. Not so much of interest to motorhomers, with limited storage, but if you're looking for some quality gifts to take back home, this is well worth a look. Of course you have to be here when there is a craft market running - you'll need to check with the local i-Site for that.
Strategically located on the corner, a local busker was playing guitar and singing, surrounded by an appreciative audience. He was an old guy with a quirky sense of humour, who could really play the guitar, singing songs for 'our' generation. I made a short video which I'll post here as soon as I get a chance (like more bandwidth for uploading it).
You can see a lot more about both Paihia and also Waitangi by going to www.paihia.co.nz.
POST A COMMENT: