NORTHLAND: BAY OF ISLANDS
Kerikeri RSA

37 Cobham Rd, Kerikeri, Bay of Islands, Northland
Phone: 09 407-8585
rvexplorer id: 17613
Lat-Long: -35.23053, 173.95233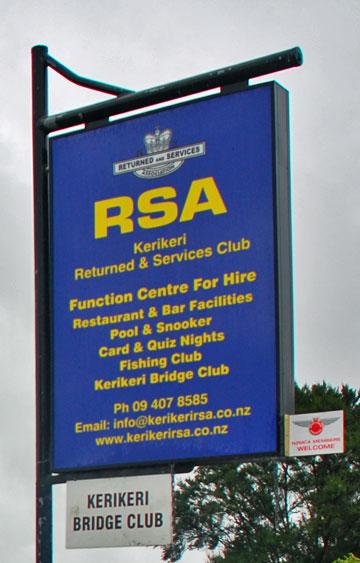 It was a miserable cold day in mid-winter (what else should you expect, right?) and we decided that we'd take advantage of the RSA in Kerikeri to enjoy eating in their restaurant for dinner before going to a movie at the cinema just a short walk away.
RSA restaurants typically provide a good basic meal at a very reasonable price, and also offer bar services if you'd like a drink before dinner. Unfortunately, the restaurant may not be open every evening, and Wednesday night was one of those evenings in Kerikeri.
So we satisfied ourselves with having a quick look around before moving on to the Haruru Falls Panorama Resort on the way to Paihia.
The Kerikeri RSA are located just a short walk from the Kerikeri town centre.
If you're planning to eat at the restaurant, give them a call before you go, just to make sure that it will be open.
POST A COMMENT: