GISBORNE: EAST CAPE
Dive Tatapouri

532 Whangara Rd, Pouawa , Gisborne
Phone: 06-868 5153
rvexplorer id: 18808
Lat-Long: -38.64468, 178.14578
Beach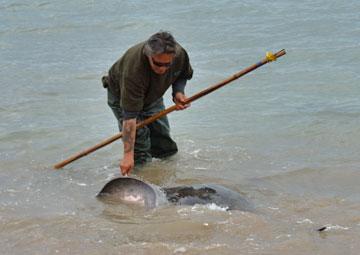 Dean attracting a stingray to come up close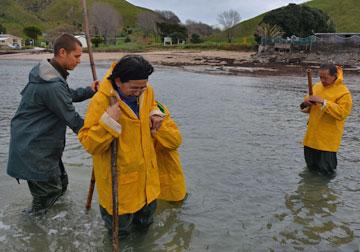 We go out into the beach with the stingrays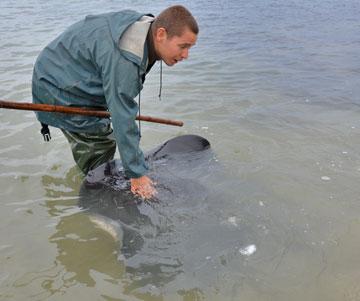 Henrik scratching a visiting stingray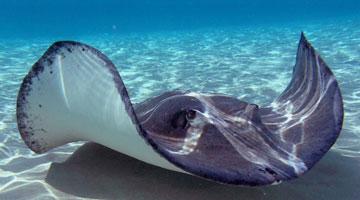 Underwater view of a stingray
- picture taken from the Dive Tatapouri website
Dive Tatapouri offers visitors that chance to interact with stingrays, sharks and large gamefish in their natural environment.
This was a special experience for us, and one of our highlights of travelling around New Zealand. And yet we only found out because Chris, at the Tatapouri Motor Camp, told us about this really cool attraction next door.
It was early spring and the Dive centre was not open, but Dean Savage, the owner saw us walking around and came over.
This is one of those iconic 'Kiwi' attractions that you might not even notice driving past. But it offers something unique that you won't find anywhere else in the world.
Dean has been developing a relationship with wild stingrays over the past decade. These are the same variety as the stingray that killed Steve Urwin, and yet they will swim right up to you and feed from your hand.
Dean's enthusiasm was so infectious that we decided to stay over for an extra night so that we could go out the next morning at low tide and experience this.
The next morning was a bit gray and overcast, but the wind had died down and the water was calm enough for us to go out. Henrik, got us all dressed up in waterproof leggings and raincoats, and lead us out into the water.
What an experience! The stingray came right up to us, and we were able to feed them with small fish that Henrik handed out. It completely changed my understanding of this animal, and we went away buzzing!
Check out the Dive Tatapouri website. I won't try to repeat what you can find in there, except to say that Dean can also take you out fishing, and is set up for providing a beach-front banquet. There is also a shark cage where you can experience live sharks in their natural environment.
I've included a couple of Dean's pictures from the website as they are much better that the ones I was able to take.
If you're visiting from overseas, this would have to rate as one of those 'absolutely must do' experiences.
While you can freedom camp just up the coast, it's usually pretty crowded with long term campers over summer, and the Tatapouri Motor Camp offers a better alternative. It is away from the main road and just a short walk from the Dive centre.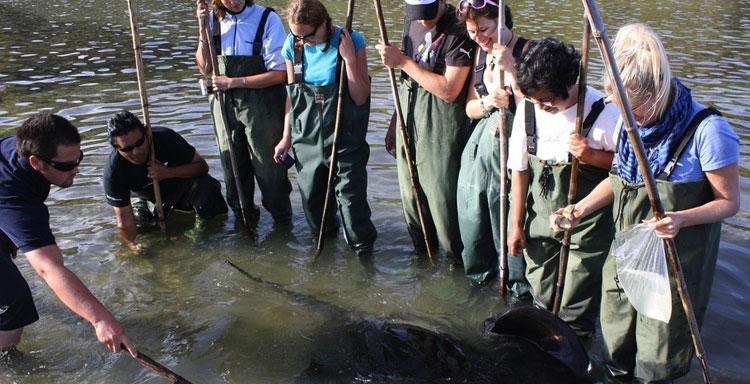 A group of visitors interacting with a stingray - picture taken from the Dive Tatapouri website
POST A COMMENT: