GISBORNE: EAST CAPE
Tatapouri Motor Camp

516 Whangara Rd, Pouawa, Gisborne
Phone: 06 868 3269
rvexplorer id: 17956
Lat-Long: -38.64598, 178.14538
Beach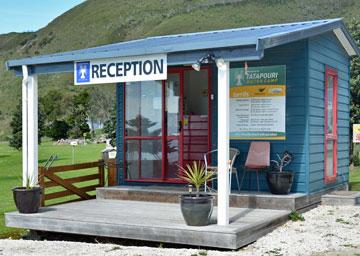 Motor Camp Reception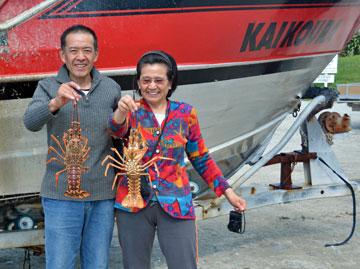 Xiangping and Shuping holding live crays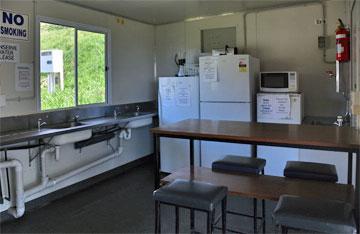 Kitchen facilities
Children's playground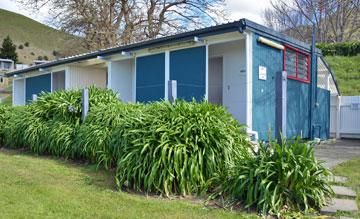 Shower and toilet facilities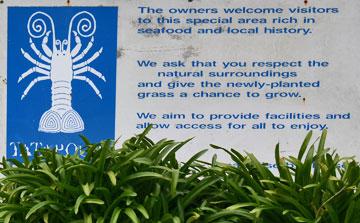 Tatapouri Motor Camp is in a prime beachfront location and is an excellent choice for chilling out and experiencing East Cape hospitality.
Calling in at the campsite was the beginning of an interesting experience for us. We had driven around the East Cape a year earlier, and hadn't be especially impressed. There were a few nice beaches, but it left an overall impression of being a bit run down.
We'd arrived the previous evening and parked over beside the main road at Pouawa Beach, and called into the campsite the next morning to have a quick look around before heading back to Gisborne and on to Papamoa Beach. I spent some time chatting with Chris, the campsite manager, while Shuping and her brother walked around the beach.
Chris told me about Dive Tatapouri next door, where they have built a major attraction for interacting with stingrays, as well as sharks are other big game fish, so I headed off to find my wife and walk up to have a look.
I found Shuping and her brother out by the boat ramp where the Kaikoura had just returned from emptying out their cray pots. They were each holding a live cray and taking pictures - I don't know when else I have seen them so excited.
We offered to buy a cray, but they were not allowed to sell direct to the public. That was when the East Cape hospitality kicked in - while not allowed to sell, they were happy to give us one! And we responded by taking them over some cold beer from our fridge.
What a treat! We popped the cray in our freezer for just long enough to put him to sleep, before having him for dinner that evening.
We then walked over to Dive Tatapouri, only to find it closed. There was a shark cage (for people) out the front, and were having a look around the back when Dean arrived. He told us about what he'd been doing over the last decade, building a relationship with the wild stingray, and being able to attract large sharks and gamefish into the bay.
He offered to take us out to meet the stingrays, but the tide wouldn't be suitable until next morning.
After a quick discussion with wife and family, we decided to change our plans and stay over at the motor camp so that we could come across the next morning.
Since we didn't need a powered site, Chris suggested we should park right along the beachfront.
The campsite is not up-market. The facilities are basic but well maintained. But we felt really welcome. Chris, Dean, and the owner of the Kaikoura were so enthusiast about their special part of New Zealand, and happy to share information, and even a cray, that we were happy to stay an extra night. I was a place we'd plan to come back to.
If you enjoy fishing or snorkeling, this a a prime location. Chris knows all the best spots for fishing or finding crays. Or Dean at Dive Tatapourii will take you out. There is a cost for that, but you won't be disappointed.
The campsite was set back from the main road, so there wasn't much noise from the passing trucks. We really enjoy taking advantage of being self-contained, but the roadside campgrounds at Pouawa Beach are quite noisy. This is a great alternative.
POST A COMMENT: