GISBORNE: EAST CAPE
Turihaua Beach

735 Whangara Rd, Pouawa, Gisborne
Phone: 06 867 2049
rvexplorer id: 17955
Beach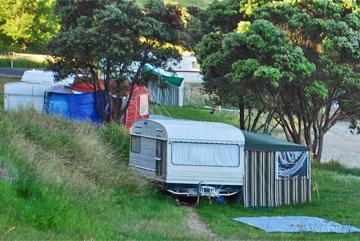 Turihaua Beach is a small on-grass area set aside for Freedom Camping. Like Pouawa Beach, it seems to mainly attract long term campers.
It was full up when we drove past, so we could only take a few pictures and continue on our journey to Gisborne.
POST A COMMENT:
06:58 PM 18-Feb-17
by DaveSNZ
from Gisborne
Public
The photos shown here are NOT of Turihaua Beach. They are in fact photos of the Pouawa Beach camping area. As at Feb 2017, Freedom camping at this beach is prohibited by the Gisborne District Council. The council do however operate this beach as a summer camp from after xmas to the beginning of February each year. In order to camp here during that period a permit is required. Check with the Gisborne District Council website for details and information about where to get a permit.. http://www.gdc.govt.nz/summer-camping/ http://www.gdc.govt.nz/turihaua-beach-summer-camping/ No other camping is permitted at this location.