CANTERBURY: SOUTH
Waihao Box

Byrnes Rd, Waimate, Canterbury
Phone: 03 689 0000
rvexplorer id: 18141
Beach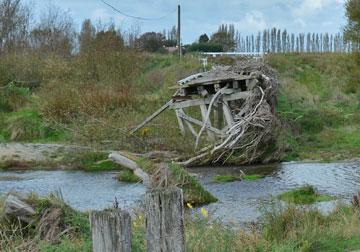 Accumulated debris in the river
The Waihao Box reserve may be closed - road access via Bradshaws Rd is blocked when a storm washed away the bridge over the Waihao river.
The bridge might be replaced at some time in the future, but one of the local farmers didn't expect that would be any time soon.
You can check it's current status by phoning the Waimate District Council on 03 689-0000
It should be possible to get there by taking a long detour via Maori Rd, but we didn't bother.
POST A COMMENT: