BAY OF PLENTY: TAURANGA
Mt Maunganui Beachside Holiday Park

1 Adams Avenue, Mt Maunganui, Tauranga, Bay of Plenty
Phone: 07 575-4471
rvexplorer id: 17471
Lat-Long: -37.63148, 176.17665
Beach, Town










Mt Maunganui Beachside Holiday Park reception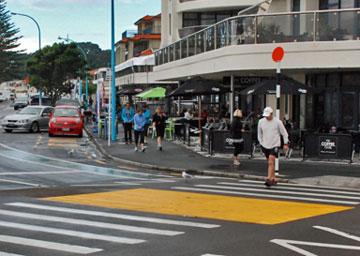 Mt Maunganui Cafes just across from the Holiday Park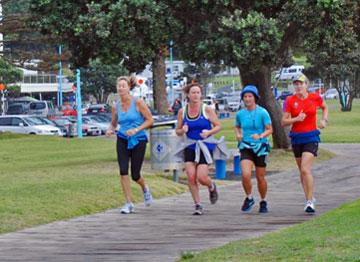 Joggers running along the boardwalk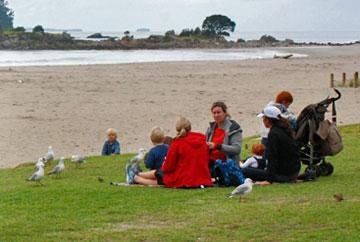 Famly Picnic by the beach
We decided on impulse to drive up to Mt Maunganui from where we were staying in Papamoa Beach. It was only about 10 km, and even though we were planning to continue on down the coast, we thought we should at least check out one of the most popular holiday locations in the Western Bay.
The Mt Maunganui Beachside Holiday Park must be in just about the perfect location for a variety of visitor activity - being at the base of the Mount, right on the beach front, and just across the road from the Mt Maunganui cafes. In the summer holiday season, it is packed out and you would be lucky to be able to book into the park unless you do so well in advance.
However, we were there in late autumn, and everything was much quieter - especially with the stormy weather of the previous few days. We had a good look around, and bought lunch in one of the cafes before getting back on the road to our original destination further down the coast.
Mt Maunganui is one of those places that has a definite appeal to all those who enjoy mixing time at the beach, with city cafe culture. There is a walk around the Mount, and plenty of enthusiastic runners along the boardwalk. Families enjoying family time at the beach, even on a Friday afternoon.
For us, we were really looking for something a little quieter.
POST A COMMENT: