AUCKLAND: HIBISCUS COAST
Shakespear Regional Park - Okoromai Bay

Bruce Harvey Drive, Okoromai Bay, Whangaporoa, Auckland
rvexplorer id: 17454
Lat-Long: -36.60666, 174.81158
Beach








The Freedom Camping Trial is now finished, and you might not be able to stay at this location
The Council is presently reviewing their Freedom Camping Bylaw
The freedom campling locations at Snells Beach and Algies Bay are still available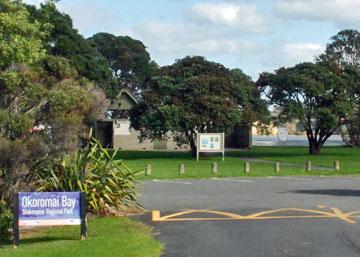 Our last stop at Shakespear Regional Park was Okoromai Bay - located adjacent to Te Haruhi Bay, it offers an alternative should the first bay become crowded.
The beach is more shell than sand, and there are cockles available for collecting at low tide.
Otherwise, it was very similar in layout to Te Haruhi Bay, offering large grassed areas for picnicing, trees for shelter, and clean, well maintained toilet facilities.
There is plenty of parking for large vans.
POST A COMMENT: