AUCKLAND: HIBISCUS COAST
Shakespear Regional Park - Te Haruhi Bay

Bruce Harvey Drive, Te Haruhi Bay, Whangaporoa, Auckland
rvexplorer id: 17445
Lat-Long: -36.61297, 174.82210
Beach









After having a good look around Army Bay, we drove the short distance to Te Haruhi Bay where the park ranger's office and information centre is located. The bay is huge, with well manicured grounds, and lots of mature trees to give it character and also to provide shelter on hot days.
That wasn't needed for our visit as it was an overcast day in late autumn. In spite of that, there were a few people at the park - one was practising his kite flying skills prior to doing some kite surfing in the harbour. There was a kayaking school, with a large group of youngsters learning out to get out on the water. Others were just happy to explore the rock pools on the foreshore, or to go walking with their mates down the beach.
The ranger's office was closed, although he was on call should we have wanted to book into the campground. Instead, we caught up with the peacocks who welcomed us at the entrance.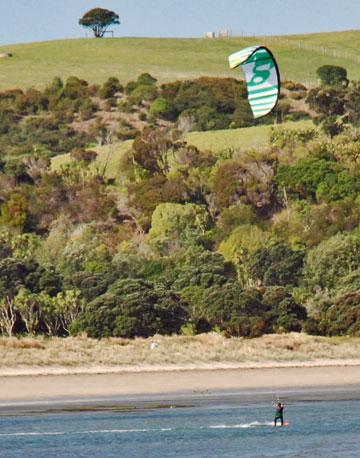 Looking out across the harbour we could see the sky tower and high-rise buildings of the Auckland central business district in the distance.
Just as we were about to leave we noticed the guy, who was practising his kite flying skills earlier, was now putting them into practise, and kite surfing around the edge of the harbour.
Overall, this looked like a great location for family type activities and I imagine it would be quite busy in the weekends over the summer holidays. There is a walk to the cliff top that provides stunning views over the Hauraki Gulf. The grassed park areas make an excellent, sheltered location for picnics, or just letting the kids out ot run around.
We didn't get to see the campsite, but would expect to be of the same standard are the rest of the park.
POST A COMMENT: