AUCKLAND: HIBISCUS COAST
Tauwharanui - Regional Park

Takatu Road, Tawharanui, Hibiscus Coast, Auckland
Phone: 09 301-1010
rvexplorer id: 17451
Lat-Long: -36.37039, 174.83144
Beach, Rural








Tawharanui is one of Auckland's collection of regional parks, and is located to the north-east of Warkworth at the end of Takatu Road. The park is quite remote, but there we plenty of visitors when we arrived on a Sunday afternoon in late Autumn. The weather was overcast but still quite warm.
We had planned to stay overnight and arranged with Jason, the park ranger, to pay the $24 overnight parking fee in the campsite. However, it was one of those occassions when we needed to have internet access overnight, and Vodafone's mobile coverage was almost non-existant. So, we parked in the public parking area at Anchor Bay and spent the rest of the afternoon exploring the bay.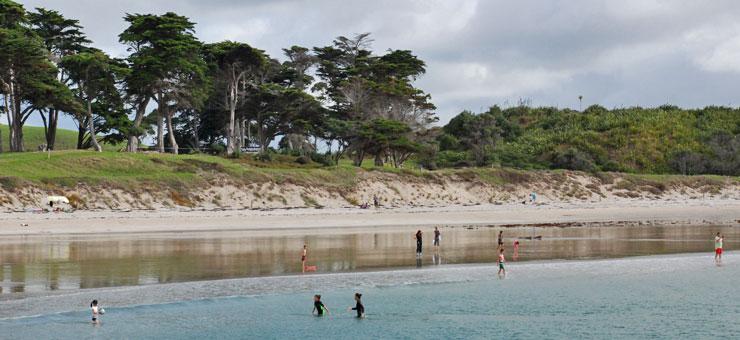 The beach was a mix of white sand and rocky foreshore. Parents with young children, teenagers, and oldies like us, were enjoyng walking along the beach, exploring the rock pools as well as walking along some of the tracks running through farmland.
At the northern end of the beach there was a cliff face with a cave that you can walk through to the other side.
There was also a rocky outcrop that gets covered at high tide, leaving rock pools when the tide goes back out. You might find crabs, shrimp, crayfish, and even small octapus lurking in these pools, and that was clearly keeping may of the visitors busy. However, it is for viewing only as the park is a marine reserve, which means you can't take anything you might find.
As a marine reserve, it is a great location for snorkelling and diving, although we didn't see anyone doing that in this occassion.
We thoroughly enjoyed our walk around the beach, and some of the park. You could easily spend a couple of days here, and the camp ground is available for those who might want to stay longer. Unfortunately, we needed to move along to our next destination - the Gulf Harbour car park to overnight before spending the next day exploring the Shakespear regional park.
POST A COMMENT: