AUCKLAND: HIBISCUS COAST
Whangateau Holiday Park

559 Leigh Road, Whanngateau 0985, Warkworth, Auckland
www.whangateauholidaypark.co.nz
Phone: 09 422-6305
rvexplorer id: 17442
Lat-Long: -36.31511, 174.76519
Beach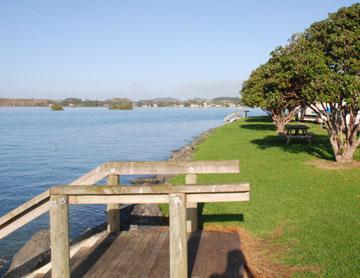 Waterfront at the Whangateau Holiday Park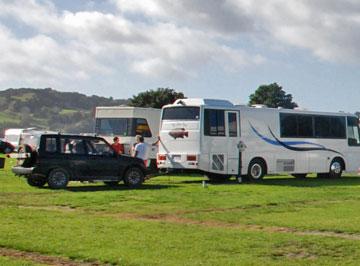 Large motorhome towing a small utility car
We arrived in Whangateau after 5pm on Saturday afternoon in late autumn. There was a choice of waterfront or other powered sites, but only an extra $2 each for being right on the waters edge, so we opted for that. We were assigned a numbered site, and got ourselves parked and set up for the night.
It was clearly a popular location as the campsite was about one third full even though it was well outside of the main holiday season. We parked beside a Winnebago van and chatted to the owners, comparing notes about our respective motorhomes, and where we had been. They had arrived two days earlier, planning to stay for just the one night, but made friends with some other travellers, and ended up staying for an extra two nights.
The campsite easily accommodated large vans, and there were some big buses towing small cars parked just behind us.
The campsite was well run, with excellent facilities. The showers were great, and metered to 5 minutes, but with the option of extra time if you really needed it.
It was very quiet overnight, and we got up early to catch the sunrise and take some pictures.
Overall, it was a pleasant location to stay and we very much enjoyed meeting with some of the other travellers. We could easily have been tempted to stay longer.
POST A COMMENT: