AUCKLAND: HIBISCUS COAST
Snells Beach - Sunburst Ave

near 9 Sunburst Ave, Snells Beach, Auckland
rvexplorer id: 17381
Lat-Long: -36.41366, 174.72898
Beach







The Freedom Camping Trial is now finished, and you might not be able to stay at this location
The Council is presently reviewing their Freedom Camping Bylaw
The freedom campling locations at Snells Beach and Algies Bay are still available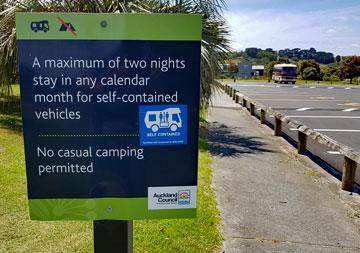 Snells Beach is a bustling seaside suburb of Auckland - or at least that is how it seems. It is actually a 30 minute drive from Auckland's north shore, heading east past Warkworth.
It has a magnificent beach with a well manicured walkway, and two parking areas set aside for certified self contained vehicles to park over. You can eat at a variety of the local restaurants, enjoy the walkway, and watch the locals taking their dogs for a walk.
We arrived later on in the afternoon, bought some groceries at the local store, and then found a parking location looking out over the beach. After making ourselves some dinner, we went for a walk for 1 km to the end of Ercegs Way, enjoying watching the activity along the beach, as well as checking out the other parking area.
As expected in a larger town, the beach walk was also very popular with locals, and many were out walking their dogs in the early evening.
The next morning we got up in time to watch the sun rise. Enthusiastic fishermen were also up early, launching their boats and heading out into the sunrise. It created a quite idyllic atmosphere.
One of the motorhomes had several potted palm plants lined up outside. The owners were from Nelson, and just returning from holidaying throughout Northland. They highly recommended Aroha Island, just north of Kerikeri, which was good feedback as this was also on my list of places to visit.
Snells Beach is a great place to park over if you're planning to explore the Matakana area. The Farmers Market every Saturday morning in Matakana is very popular. But are lots of interesting places to explore, including Sandspit, Leigh, Goat Island, and Pakiri Beach. Snell's Beach is a good place to start, and has the significant advantage of being free!
We enjoyed our overnight stay, but for us it was just a little too close to being back home in Auckland.
14-Dec-16: IMPORTANT UPDATE
The council have recently resurfaced the carpark, and have allocated 6 specific parking areas for motor caravanners. So, if you're planning to stay overnight, please be sure to use these.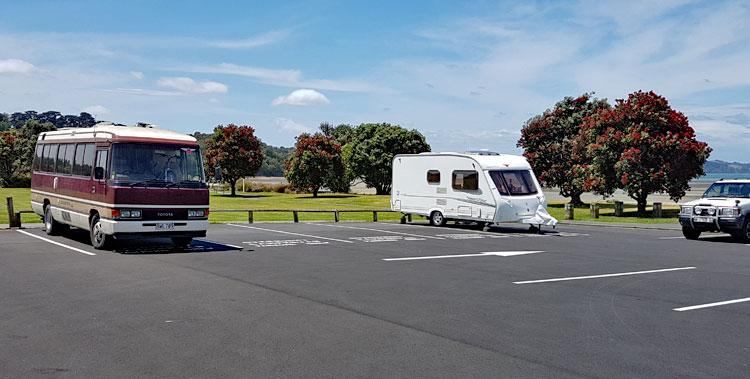 POST A COMMENT:
12:07 PM 13-May-17
by Denise
from Whiritoa
Public
A favourite overnight place for us. Popular, so it's a good idea to arrive mid afternoon. Love the beachfront walking path with plantings and seats dotted along the way.