AUCKLAND: FRANKLIN
Clarks Beach Holiday Park

226 Torkar Rd, Clarks Beach, Franklin, Auckland
Phone: 09 232-1685
rvexplorer id: 17635
Lat-Long: -37.14106, 174.69015
Beach, Town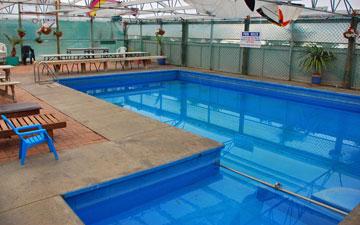 Indoor swimming pool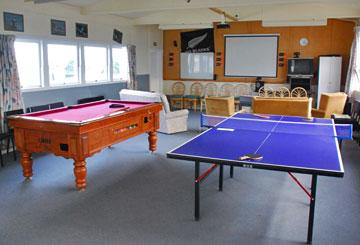 Games room with snooker and table tennis tables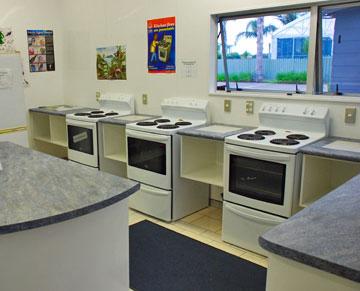 Kitchen area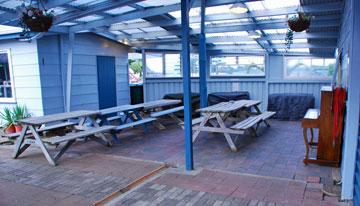 Covered dining area with piano
We arrived at the Clarks Beach Holiday Park just as the light was fading, booked in and then drove back into the town to have dinner at Chinwags restaurant who were offering Friday night specials. It proved to be not so cheap, but the food was really good, and made for a nice break from cooking.
Back at the holiday park, we had our choice of powered sites and got ourselves set up for the night. I was a little disappointed that we were not that close to the water as the holiday park was behind the yacht club and a large public parking area. But it was still a nice location, and only a few minutes to walk to the beach.
The next morning was cloudy but not cold, and we had a good look around the park. the childrens playground was excellent, and there was also a games room and lounge that included a snooker table ($2 a game) and table tennis table ($1 for a ball). There was also a large indoor pool, but not being used in mid-winter.
Overall, the facilities were older, but well maintained. There was even an old piano in the BBQ area, although I noticed that several keys no longer worked.
I chatted to the owner about fishing in the harbour, which he said could be very good, or you might get nothing at all. There was a collection of boats stored out the back of the park where they had direct access to the water. I would think that this would be a great location to try your luck if you have a boat.
I also asked about the public car park beside the yacht club. For me, it was a much nicer place to overnight park as it was right on the water's edge. There was no sign prohibiting overnight parking, but the camp owner made it pretty clear that this was not an option, and he would go out and ask anyone who did to move somewhere else.
For me, this was one of those marginal areas. The campsite was not large, and would fill up over summer. So, what is wrong with staying overnight in the car park for self-contained vans?
Apparently there is a problem with people in the car park coming up to the campsite to use toilets and showers, which was the reason for the large sign at the entrance. There could even be an opportunity here for offering toilets and showere on the campsite grounds for people overnighting in the car park. These could be made available for a fee at the camp office, and controlled using a magnetic card for access, a system used at other campsites for ensuring that only paying guests can use the facilities.
Overall, it was a pleasant stay, but not cheap at $40 for two persons overnight in winter. The owner advertised an NZMCA discount, but would only give that if we were staying for more than one night. While it wasn't worth arguing about, I wasn't so impressed.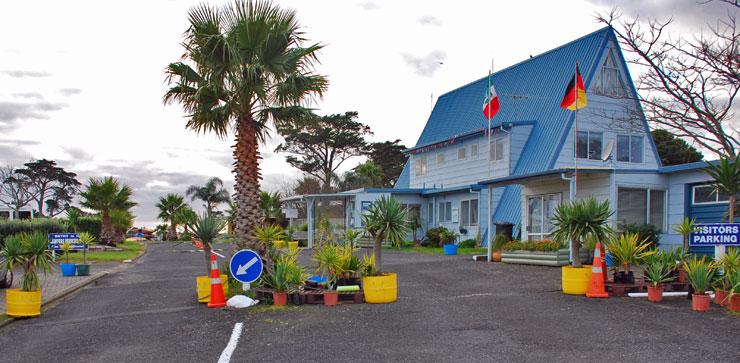 POST A COMMENT:
07:11 PM 21-Mar-16
by Eddie
from New Plymouth
Public
Hi I was wondering if you do longe term caravan tenants as I my have a long term job up that way