AUCKLAND: FRANKLIN
Orua Bay Beach Motor Camp

294 Orua Bay Road, Awhitu Peninsula, Franklin, Waikato
Phone: 09 235-1129
rvexplorer id: 17642
Lat-Long: -37.04867, 174.61101
Beach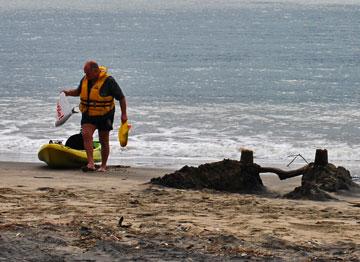 Returning from a fishing trip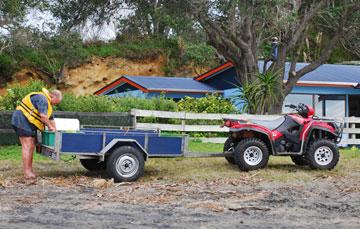 and loading up the trailer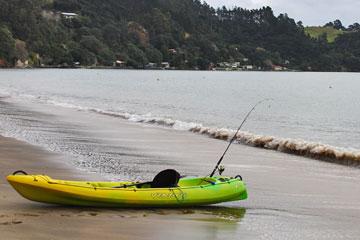 You don't need a big boat to go fishing at Orua Bay
Orua Bay is at the top of the Awhitu peninsula at the entrance to the Manukau harbour. The Awhitu peninsula is one of our hidden gems, with good roads, stunning views over farmland, secluded bays, and great fishing. Quiet and peaceful, you can enjoy a country lifestyle, even if just for a short time while visiting.
Orua Bay Holiday Park is right on the beach, although the powered sites are set back a little from the beach front. Parking is on grass, which is well maintained. All the facilities are clean and conveniently placed.
This would be a great location to get away from the tourist rush over summer, although it is not a big campsite, so be sure to check before driving the 48 km north from Waiuku. The swimming is good, or you can go fishnig and boating from the campsite.
The campsite is also just a short drive from the Manukau Heads lighthouse and signal station. The lighthouse is no longer used, being replaced with modern technology, but it has been lovingly restored and offers spectacular views over the harbour entrance. You can go inside the lighthouse and walk around the grounds, and read about the wreck of HMS Orpheus, a British corvette that ran aground on the treacherous Manukau sandbar and sank with the loss of 189 sailors.
Bus loads of visitors travel up to Cape Reinga to see the lighthouse, and yet they cannot even go inside. The lighthouse at Manukau Heads must rate as one of the 'must see' experiences that very few people know about.
It is free to visit, with only a voluntary donation requested if entering the lighthouse. Have a look at the the pictures we took when visiting the lighthouse earlier that day.
We didn't stay at the campsite on this occassion as we were heading back down the coast to the Awhitu Regional Park. However, it is certainly a location that we would be happy to return to.
POST A COMMENT: