AUCKLAND: AUCKLAND METROPOLITAN
Karekare Beach

2 Karekare Rd, Karekare, Waitakerei, Auckland
rvexplorer id: 20435
Lat-Long: -36.98628, 174.47923
Beach, Forest








The Freedom Camping Trial is now finished, and you can no longer stay at this location
The Council is presently reviewing their Freedom Camping Bylaw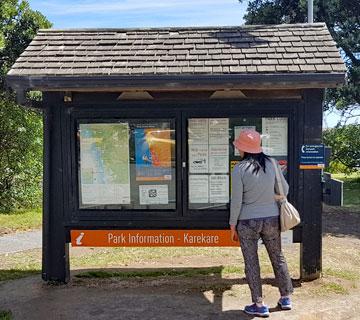 Shuping checking out the park noticeboard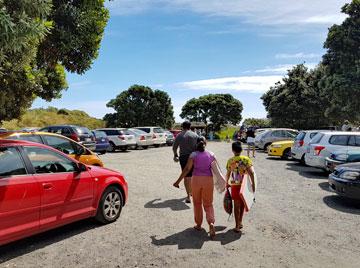 Beach parking, and the beginning of the walk to the beach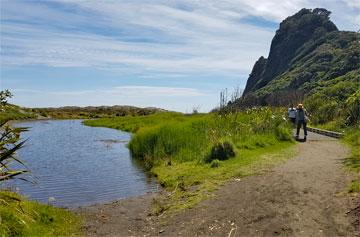 Walking along the river to the beach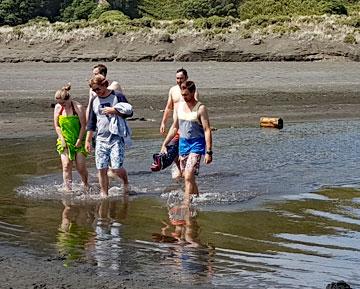 Wading through the river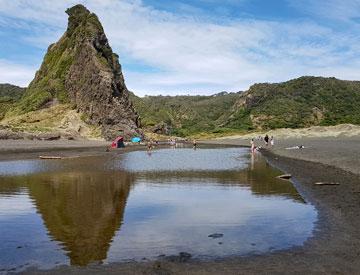 The mouth of the river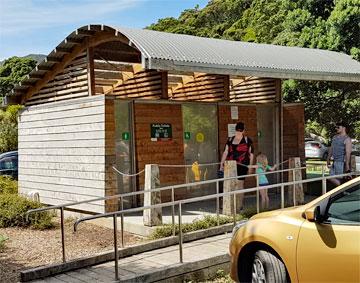 Public toilets back at the reserve carpark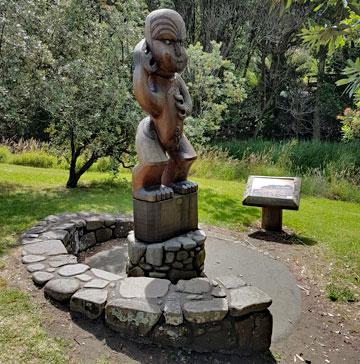 Maori carving at the entrance to the reserve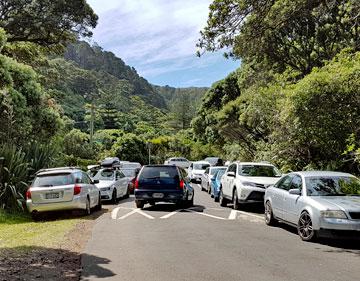 The access road into Karekare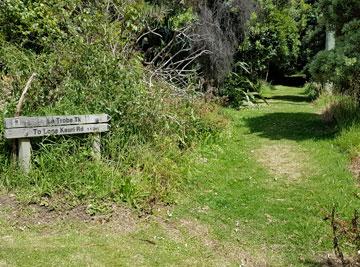 Other walks that you can explore
Karekare Beach is one of our stunning black sand beaches, but is accessed down a winding narrow sealed road, and is not really suitable for large vans.
We'd never been to Karekare Beach, but decided to check it out after this article was published in the New Zealand Herald:
"Karekare Beach on Auckland's west coast took second place in a list of the 25 best beaches in the world chosen by Passport Magazine, a gay travel publication." - read the whole article
The following weekend was warm and sunny, so without giving it much thought, we headed off in our 8 metre long motorhome to have a look for ourselves.
That was a mistake for two reasons - the winding, narrow access road was tarsealed, but only just wide enough for us to drive down. We took it quietly, but Shuping was not at all happy easing past cars with a sheer drop on her side of the van.
This was made much worse by the second reason - the fact that most of Auckland must have also read the same article, and there were cars and people everywhere!
The normal parking in the reserve was completely full, and cars lined the side of the road all along the small Karekare beach community. Fortunately, one of the local residents took pity on us and directed us into his neighbours front yard, where he suggested that we wait until the traffic chaos had settled down.
So we joined in with the crowds of people migrating along the river to the beach. The scenery was dramatic, with dark, jagged hills rising up out of the black sand beach. Most people were just walking along the beach, but others were swimming, and a few were fishing.
There is a surf club overlooking the beach, and clean public toilets in the parking area. The local residents were friendly, if somewhat bemused by this sudden influx of city folk.
There is no sign for freedom camping in the parking area, but it would be a great location, nestled in a safe community. If you want to stay overnight - please check with one of the locals.
It would never normally be this busy, so finding somewhere in the carpark shouldn't be a problem. You just have to be willing to drive your van down the narrow access road.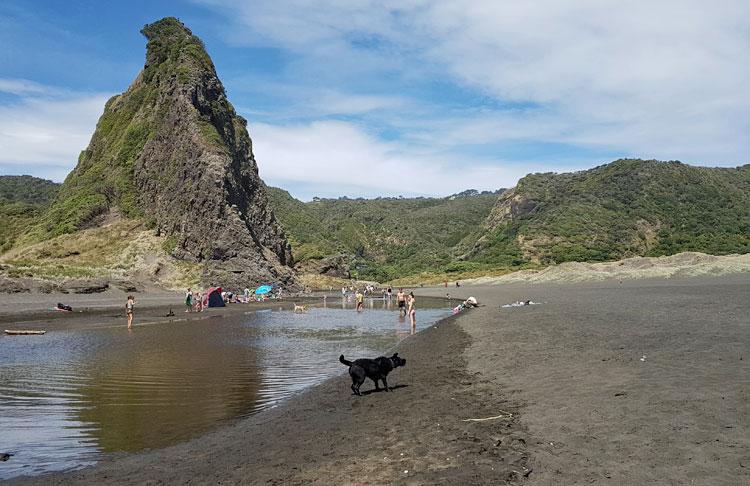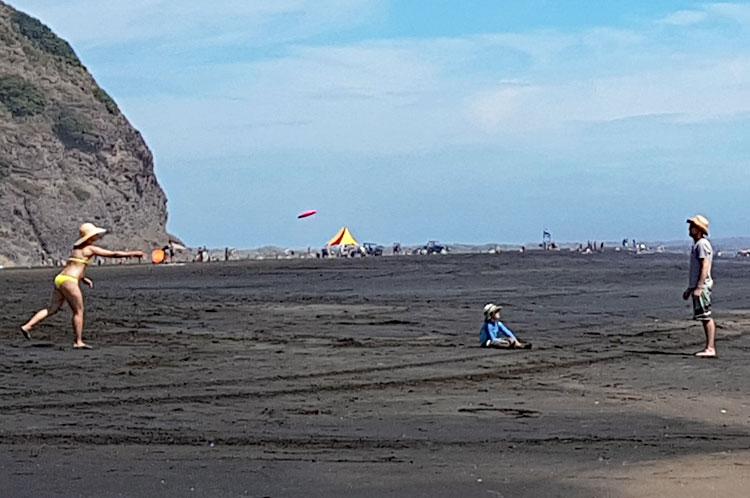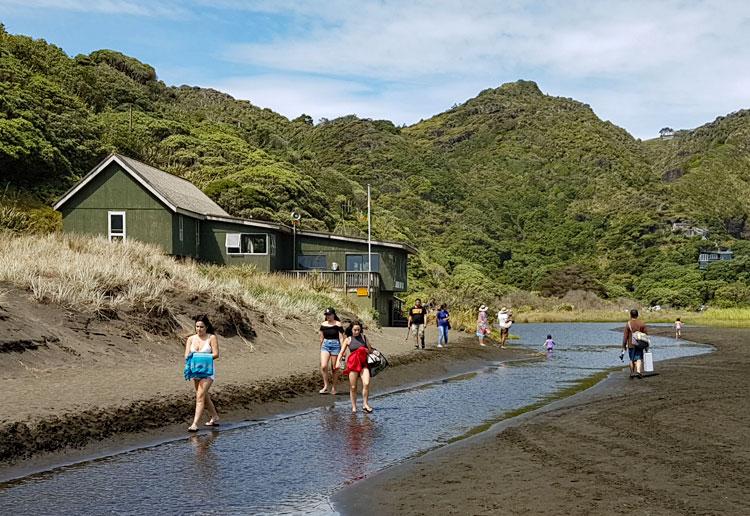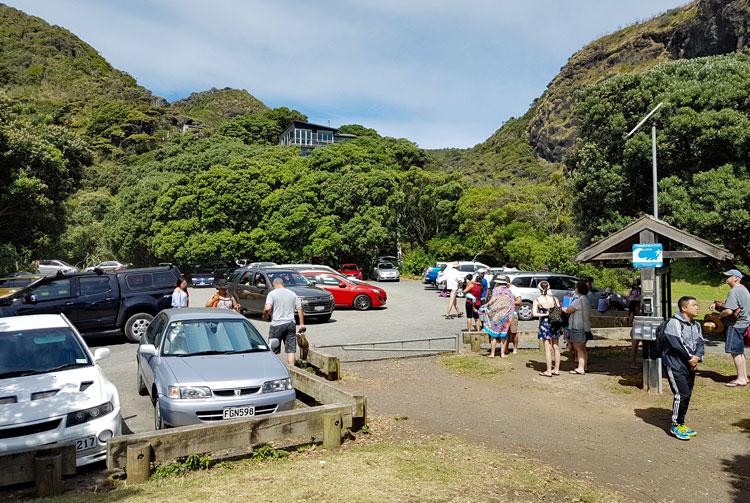 POST A COMMENT: